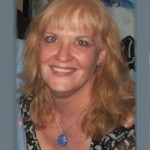 Syndia is a holistic healer and energy guide with a passionate and heart-felt love of the healing arts and healing sciences.  Syndia discovered healing arts and science in her early 20's, which opened up her passion and creativity and explained how she always viewed the world.
     Syndia has used healing arts and sciences to overcome her own health and life challenges. She walks her talk. Today, after 25 plus years, she inspires clients by passing on her enthusiasm and truth learned from her own personal successes on the healing path.
     Known for her practical, creative, and down-to-earth approach, Syndia's intimate connection with natural healing also makes her a compassionate teacher, especially when working with her clients. "I've been in the clients' position before so I understand the need for support on all levels including the practical everyday level.  Taking the responsibility, time and courage to heal yourself deserves respect, support and compassion."
     "I truly enjoy teaching each client how to heal themselves. I love watching their faces light up with recognition of how truly amazed they are and how creative each individual is in creating circumstances that open them up for healing from the inside out."
     Syndia graduated the Barbara Brennan School of Healing in '98, a rigorous four year institution that trains practitioners to work in all aspects of the human energy consciousness system.  She also has a BA in both English and Communications from Seton Hall University.
     In addition to Brennan Healing Science®, she uses aspects of Core Energetics®, Pathwork®, and Journey work in her practice.  Syndia is also certified in Hypnotherapy and is a non-denominational Ordained Minister.
     Prior to opening her practice full time, Syndia worked in corporate advertising, public relations, TV/Film production, and worked in medical doctor's offices, chiropractic offices and the Division of Developmental Disabilities in New Jersey.
     Syndia's skills continue to grow as her passion and creativity keep expanding beyond anything she thought possible.  "It's important to me to show and teach everyone that they have this ability within themselves. It just needs a little acknowledging and nurturing to come forth and guide you in your own life.  I wake up in the morning ready to share and help bring others fully into themselves and their joy in life."